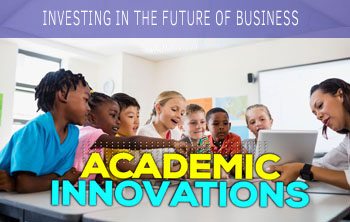 We believe the younger students are when they are introduced to math and science learning the greater the future advantage. An abundance of challenges are facing todays corporations, including the ever growing pressures of global competition. A young pool of trained problem solvers would surely represent a major tactical advantage to any industry.
About Us....
Academic Innovations is a non-profit corporation with a focus on education and economics. We have several community service initiatives as well as an E/I broadcast program. Our philosophy is simple, when we start early to instill in students advantageous social and economic ideals, we can facilitate a positive generational effect on future populations.
Our objective is to equip students with the necessary skills and talents to thrive in their lives and in the workforce of the future. Our programs are made possible through generous underwriting, sponsorships, individual and foundation contributions.
Your support will allow us to gain wider reach and have a broader more profound motivating effect on young adult populations. Philanthropy is most often viewed as a benevolent measure with virtuous but largely unquantifiable benefits. Corporate underwriting of Academic Innovation is an investment in the future of business, industry and corporate competitiveness. Your participation in the direction and development of the next generation workforce will yield both a short and long term return.